Death Perception
is the first novel I've read by Lee Allen Howard. It won't be the last.
I was first exposed to his sharp writing and clever plotting skills with his short story "Poor Old Soul," which was published in the 2012 dark fantasy collection
Mirages:Tales from Authors of the Macabre
edited by Trent Zelazny.
Howard explores the hard luck, small town world of nineteen year-old Kennet Singleton (his offbeat name is explained in the novel). His reality includes a highly dysfunctional family, a 'blessing' from a Pentecostal minister, and a part-time job at a local funeral home and crematorium.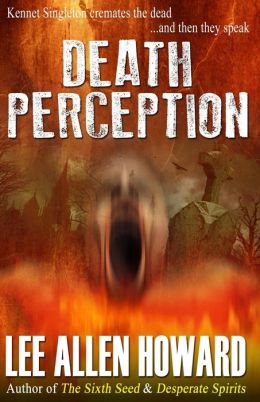 http://www.barnesandnoble.com/w/death-perception-lee-allen-howard/1115163681?ean=9780615800691&itm=1&usri=death+perception
The novel is thick with subplots, all of them intersecting with Kennet's story. Almost every character has something shady going on. This keeps the action moving as the reader enjoys a front row seat at a show which includes seduction, blackmail, embezzlement, substance abuse, domestic violence, drug trafficking, adultery and murder.
The landscape of his hometown of McKeesport, PA isn't all bleak and dangerous. Kennet makes friends along the way which will, in time, open doors to his future.
Howard deftly steers his narrative through the twisty plot as the mysteries deepen, danger mounts, and the tension becomes almost unbearable. There's also a touch of the otherworldly running through the story. The element meshes well with the rest of the novel. Writing this smooth is a sure sign of a gifted storyteller. Lee Allen Howard is a highly skilled and gifted writer. He writes like a pro.
Catch a rising suspense star. Read
Death Perception
. The novel and the author are both winners.
You'll feel like one too when you turn the final page.
Current Location:

Dover Farm Library

Current Mood:

What's Happening?

Current Music:

"Get Back" by The Beatles